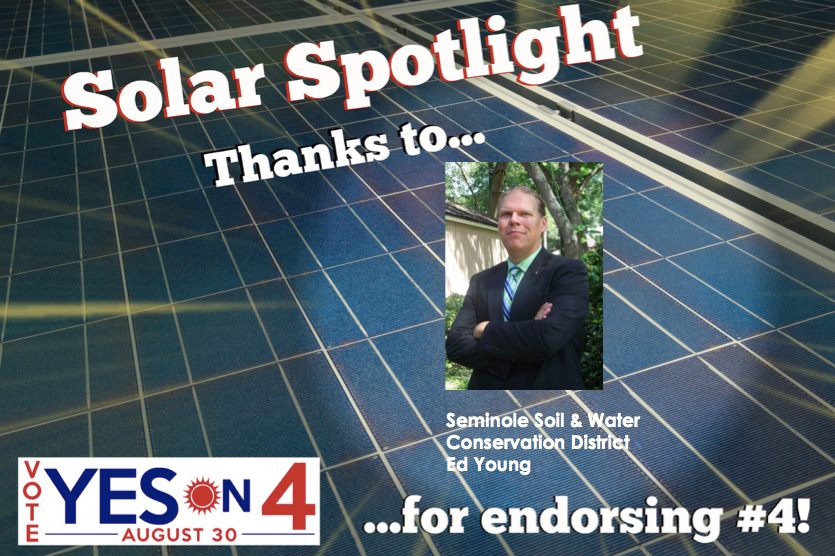 On the Issues:
• Fracking
-Does not believe that fracking should be permitted in the state of Florida. Florida's limestone bedrock is too porous and poses too much of a threat to Florida's aquifers.
-Believes fracking is a state issue and not a federal one.
-Does not believe the federal government should involve itself unless it involves federal land and then that the federal government should honor what the locality has decided is the policy regarding fracking.
• Community Support
-Support programs for local agricultural landowners to help preserve and improve their lands through programs offered by NRCS, SJRWM, NACD, and other similar organizations.
-Help support residents of low-density neighborhoods in preserving the rural character of their communities.
-Supports development of community farming programs for communities and individuals throughout Seminole County's municipalities.
• Education
-Supports education and outreach programs to keep citizens informed of lake, river, and aquifer water quality management efforts.
• Solar Energy
-Is against any legal obstacles put in place by the government or a utility that restricts access to this renewable energy source.
-Publicly supports and has endorsed amendment to the Florida State Constitution known as "Limits or Prevents Barriers to Local Solar Electricity Supply".
-Publicly supports and has Amendment 4 on the 2016 August primary ballot that lowers solar energy costs by lowering taxes on solar installations.
• Industrial Hemp
-Believes the growing, harvesting, and processing of industrial hemp only should be investigated and implemented.
-The many uses of industrial hemp could help make idle farms lands in Florida active once again and contribute to Florida's flourishing agricultural and manufacturing fields.
-Large-scale water filtration systems that use industrial hemp filters can clean the water ways (i.e. the Indian River Lagoon, St. Johns River, and Lake Okeechobee) better and at a lower price for tax payers.
• Beach Driving
-Is in favor of banning all driving with the exception of emergency vehicles on Florida's beaches.
-Believes all Florida beaches need to be regularly nourished and replenished.
• Recycling
-Believes recycling should be made available in all residential areas including condominiums, apartments, and hotels.
-Supports incentives for businesses that actively conducts recycling programs on their premises.
• Water Conservation
-Supports all governmental buildings and parks to converting their public bathrooms to "low flow" toilets, water conserving faucets, and water-free urinals.
-Supports incentives for local small businesses that install "low flow" toilets, water conserving faucets, and/or water-free urinals in their bathrooms.
-Supports the county's current ban on all watering of public, private, and commercial lawns between the hours of 10 a.m. and 6 p.m. with exception of freshly laid sod.